Three Rivers Dance Academy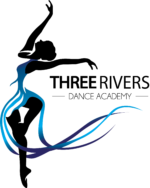 Three Rivers Dance Academy was founded by Stephanie Reitz in 2020. At Three Rivers Dance Academy we want to help every dancer make every step count. We welcome you to our dance family!
We run 4-6 week classes for students looking to get a taste of dance or get some extra dance in. Our 4-6 week classes include Parent and Me, Dance Discovery, Back Handspring Workshops, and Aerial Workshops.
We run a performance and recital program. This allows dancers to be a part of the regular dance season and get two on stage performances.
We run a competitive program for dancers looking to take their dancing to the next level. Our competitive team commit to coming to class 2-4 days a week and participates in local and travel competitions and conventions.